It has been a troubling two weeks for us in the Ojai Valley and all of our lives have been turned upside down.  Throughout our beloved community, however, hometown heroism has emerged as a meta-theme that has likely impacted every one of us.
It was Monday night when our power went out and my family sat in the dark waiting for the lights to return.  At that time, we had no idea that this would be the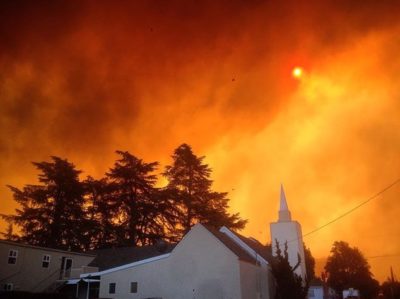 beginning of a season I will never forget.  As smoke billowed into the air blocking the stars from our velvety night sky, we received an unexpected text informing us that our associate pastor's family was being evacuated from Upper Ojai and would be sleeping at the chapel.  By morning, the flames arrived at Creek Road and we too quickly packed to leave.
Down the street I stumbled into a chance to join some neighbors who had rallied to get cattle into a pen for safety.  By the time I arrived at Calvary Chapel, there
were families and individuals already moving in upstairs.  They were laying out blankets and pillows, and filling the refrigerator with food that was quickly thrown into their cars.  The power was going in and out so we awkwardly sat in the dark while playing with the children so they wouldn't be scared.  Chairs were set out on the flat part of the roof where some people sat and watched the flames come closer and closer to the neighborhoods in Oak View.
Even when electricity came back, the Internet was sketchy, and then cell phone service stopped all together for me.  Later we were told that the AT&T tower had burned down.  Thankfully others could get some data service when I couldn't and we were learning what was going on.  Many others were being evacuated too as the fires were spreading; Nordhoff High School and the fairgrounds had opened as a shelter.  We started getting conflicting reports from across the community, some of the information was true, but not all of it.  We had our own version of "fake news" going on.  Yet what everybody wanted to know is if the exits were open or were we trapped.
Since the chapel has four huge pine trees in front of it, we realized their potential for catching flying embers and igniting our temporary home in moments, so we were vigilant to keep watch.  At one point, we had a line of people setting atop our second story roof watching the fires surround us on three sides.  The coming days would see the flames creep around the hillsides of our valley and completely encircle us.
The fires presented a clear and present danger for all of us and we were happy any time our friends or family were able to get safely out of town.  For those that stayed, the smoke became ominous as it began to close in on us.  Facemasks became essential if going outside.  We were doing all that we could to keep the air inside clear.  Finding a furnace filter, we taped it to a box fan and it helped catch debris.  Meanwhile, potentially contaminated water added another layer of difficulty.
We were trying to sleep when a message came through that help was needed to rescue some horses.  Not sure what was ahead, I joined four amazing young adults and teens, clad with covered faces and eye protection, and headed to Meiners Oaks where the mountainside was glowing bright red with furious flames hundreds of feet in height.  None of us had ever seen anything like it.  Overcoming fear seemed to be the biggest battle that night, even more than the fires themselves.  God's message of His perfect love casting away fear (I John 4:18) resonated in many hearts during those foreboding hours and I saw victory after victory.
There was no clear path for how this rescue was to be done and, like every hour of each day so far, prayer became our primary weapon.  We offered words of comfort, warm embrace, and prayed for a very specific type of help.  With a rapidly moving wall of fire in front of us, we needed two horse trailers and experienced loaders and there was no time waste.  But there was more: every volunteer was to be calm and at ease otherwise the animals might sense their anxiety and spook.  But from where would that serenity come?  It was clearly present and it was the peace of God that surpasses understanding described in the Bible (Philippians 4:7).
Also wondrous was the miraculous answer to our prayer through a hero that had driven all night from Sonoma to help our community.  I don't know exactly how we got connected but I can tell you that he was literally the midnight answer to our prayers.  The horses were saved and so were the hearts of all those that waited in the darkness for God's answer to their desperate pleas.
Prayers were being offered for our valley from across the country and most of us would testify that they were very felt.  I saw this community rally together, people helping their neighbors, and it is far from over.  The fire fighters, emergency responders, and Red Cross were all heroes, but there were so many more: so many residents sacrificing for one another.  Love and compassion seemed to rule in our valley, without disclaimer of politics, religion, or ideology, just like God wants for the world.  Jesus teaches us to love everybody.  I am so grateful that when tragedy struck our community, what emerged in the hearts of so many was beautiful.